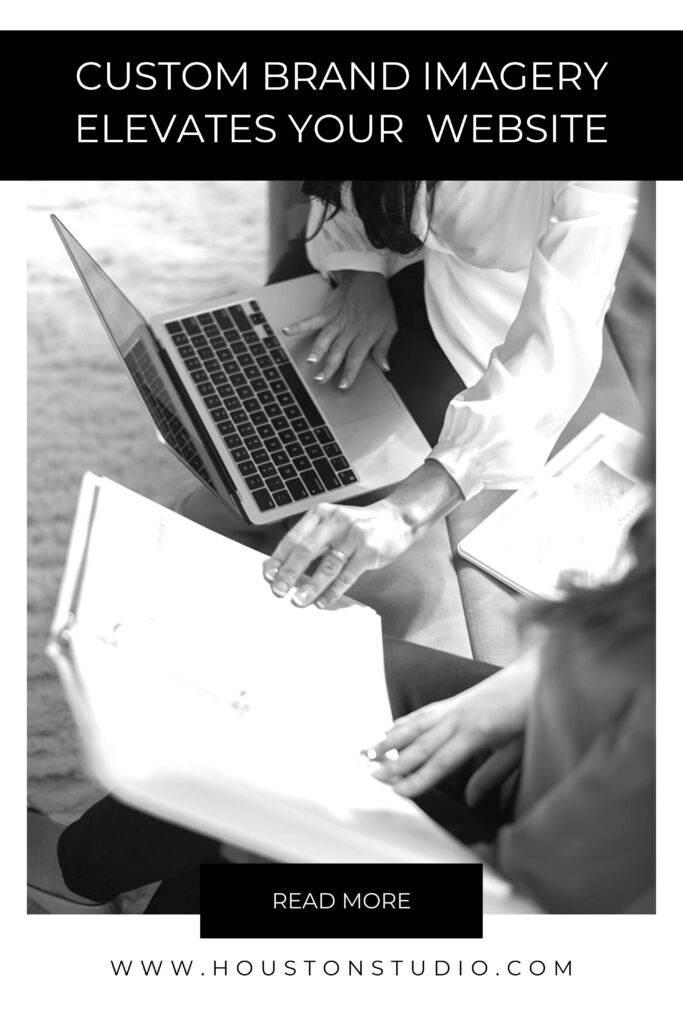 Creating your own custom photo content can actually elevate your Google ranking and your business website's SEO reach. All search engines (i.e. Google, Pinterest, Instagram, and Facebook) are programmed to crawl to fresh content like photos, videos, and articles that meet the requirements of the search. Sure, using purchased stock images are great place holders for your site, but you're doing yourself a huge disservice by not capitalizing on the free SEO boost you can do for your site by using/creating unique imagery that is customized to your brand.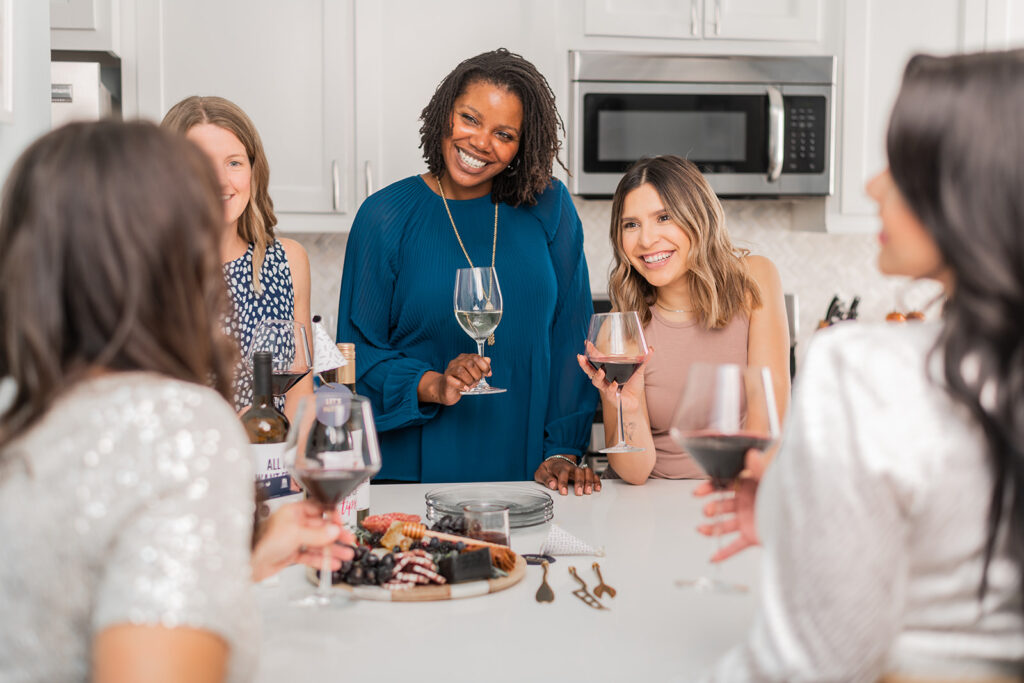 A Houston Studio client's brand content design discussion covers an extensive discovery of your brand, business goals, and target audience to create a photography shot list curated to entice, engage, call to action, and ultimately conversion of your ideal customer. Imagery is a major factor in not only getting your potential customer to your site, but also keeping them engaged with your website/online shop, and then converting them to become paying customers. Here are some of the key points of discovery that must be identified before your Houston Studio brand content photoshoot: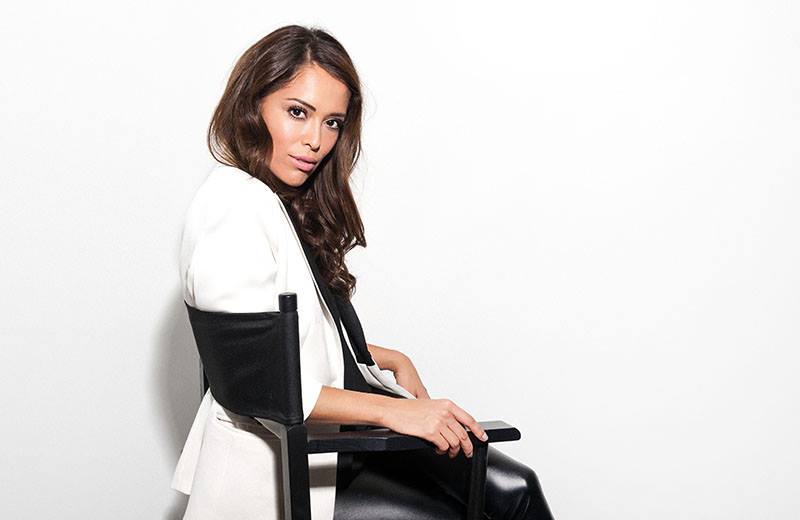 What are your business goals?
As always, the first step to success is to declare your business goals so that you can claim them. It's like starting the maze with the jackpot at the end and finding the twist and turns in your strategy before they arrive. If your ultimate goal is to make a certain amount in revenue write it down. Do the math and see how many clients, items you have to sell, or projects you must take on average to reach it. This will show you how much you may have to invest monetarily or with your time toward marketing your business.
Know your target audience. Identify who they are. Who are you speaking to?
With your goal in mind, we discuss who is your target audience. We're talking about the detailed identity of the psychographics of your market. What is their personality like? What's their style? What are their core values? What are their interests? What is their lifestyle like? What are their challenges and solutions? How can you benefit them? Answering these questions in length with defining your message and aesthetics in your marketing. The easiest way to translate your inspirational aesthetic to your creative team will be to create a Pinterest board with images of how you want your brand story to look.
Have you designed your brand aesthetics, identifiers, and full brand guidebook?
Below is an example of Houston Studio's client, Women's Wealth Collective full brand guidebook design. Each asset and component is cohesive to the brand and viewers and potential customers have a clear vision of who you are. The full branding guidebook and brand assets also position you for business growth as it helps employees stay compliant with brand awareness in your marketing.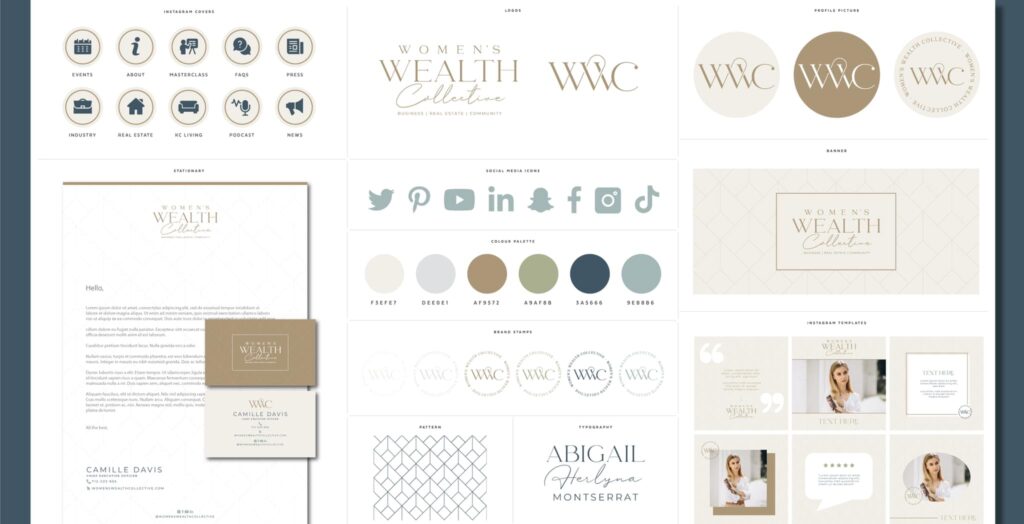 What services, products, and ideas do you want to share with your target audience?
This is where we talk about your business, products, or services that need to be photographed so that you can talk about them in your marketing. Think about your business from behind the scenes, to the day-to-day style content of your services, to how the product is used, and your interaction with the client. We can come up with so many great ideas for your photo vignettes for your marketing content.
What branded items, products, brand color palette props, and signage will you incorporate into your session?
With an established logo and icon, you can now brand your products, information, services, and marketing materials. This is especially important as we begin to list out the content vignettes for your marketing content. Through your imagery and well-branded products, uniforms, office supply, signage, letterhead, social media icons, and well-designed website we can create brand recognition.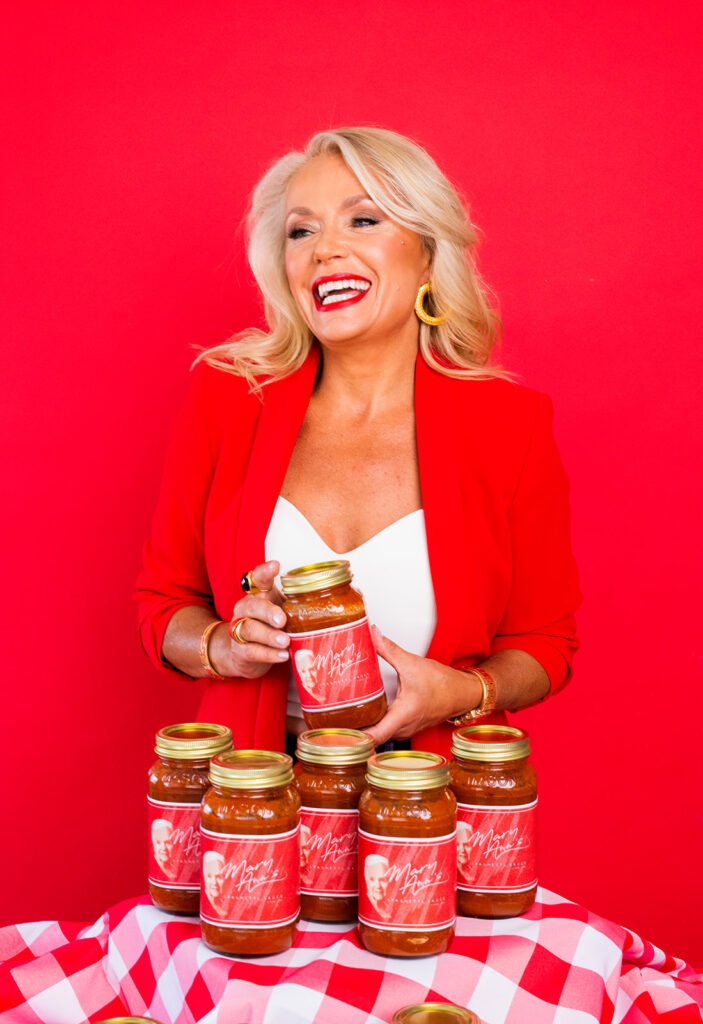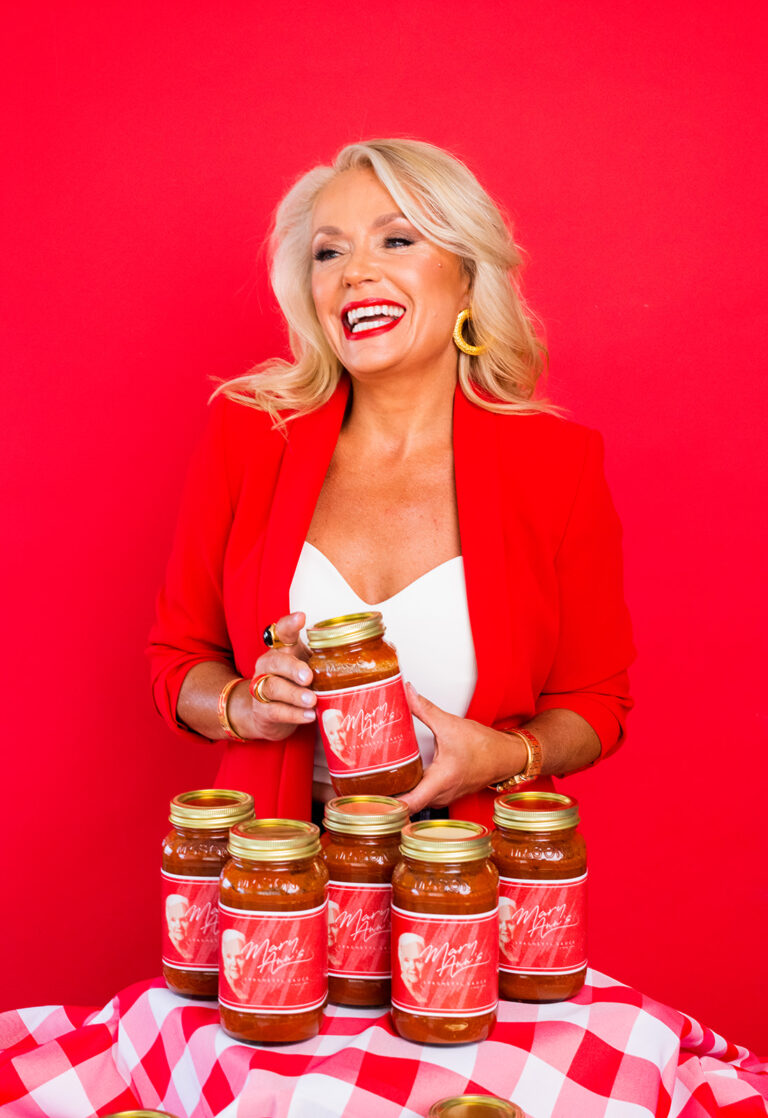 Where do you plan on using your images?
Identifying what platforms you will use your images on will also help to make an efficient photo shot list and a much more productive photoshoot with your photographer. Take into consideration of orientation (Horizontal or vertical) or file. Is high resolution needed or is web sized sufficiently for quicker loading on online platforms? Perform an audit of your marketing platforms and list what images you'd like to create. Do you need a portrait, e-commerce, stylized content (flat lays), and lifestyle imagery of the product for the header? Even the behind-the-scenes coverage or the making of your product can be engaging to your audience. Letting the viewer know exactly who you are, helps them know exactly what to expect.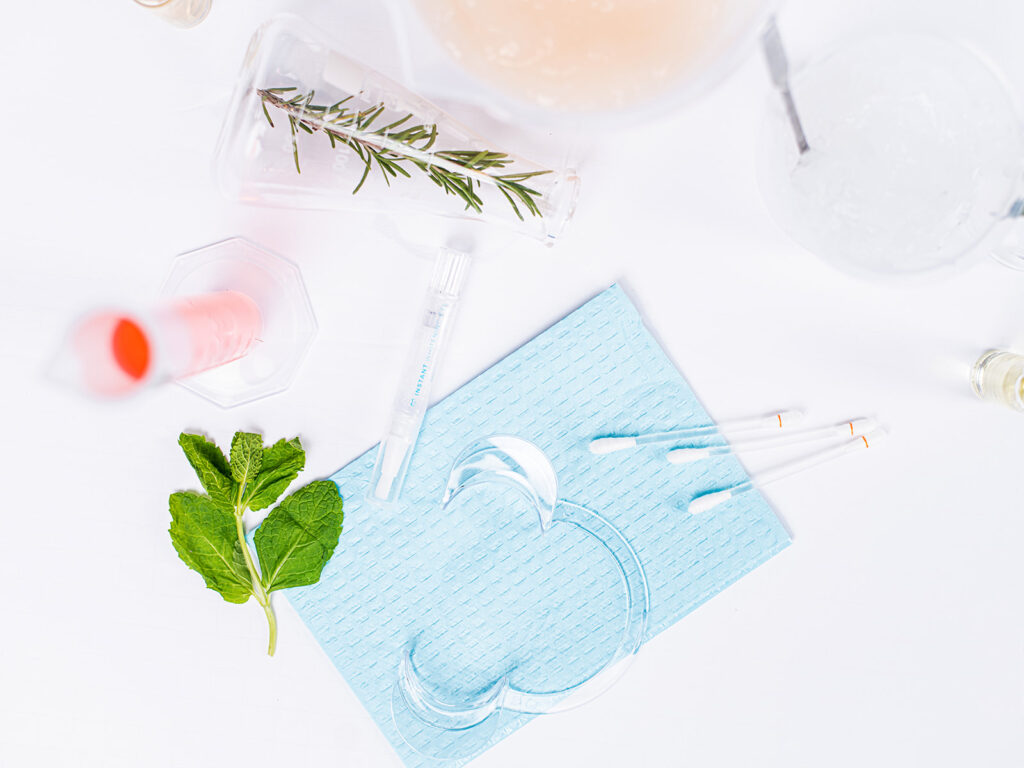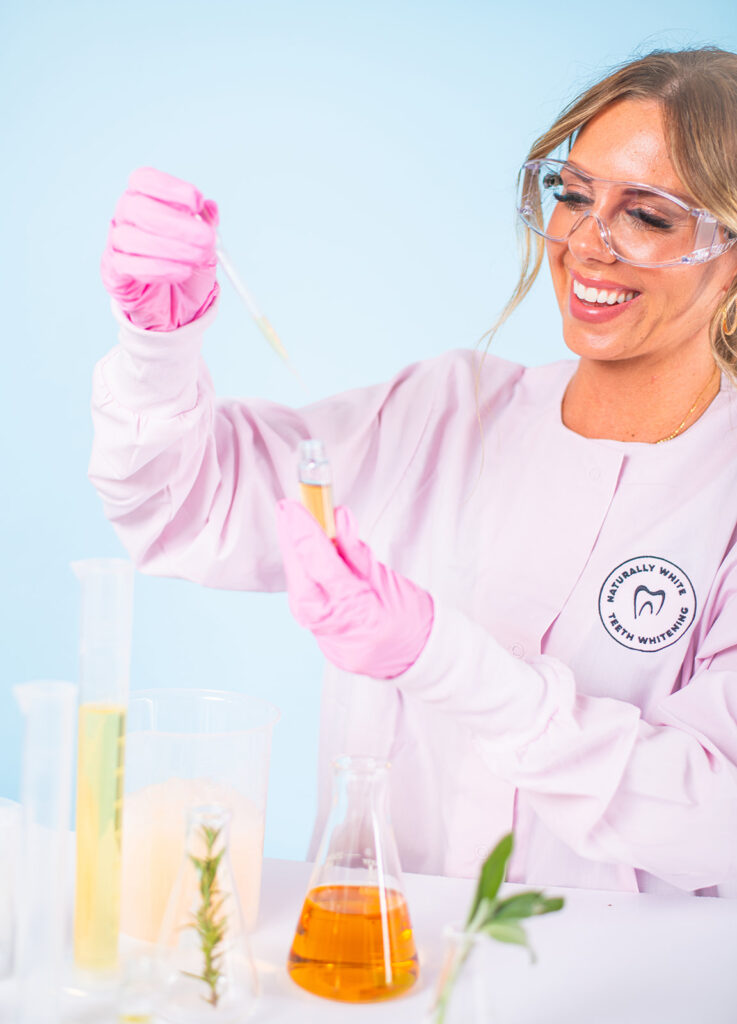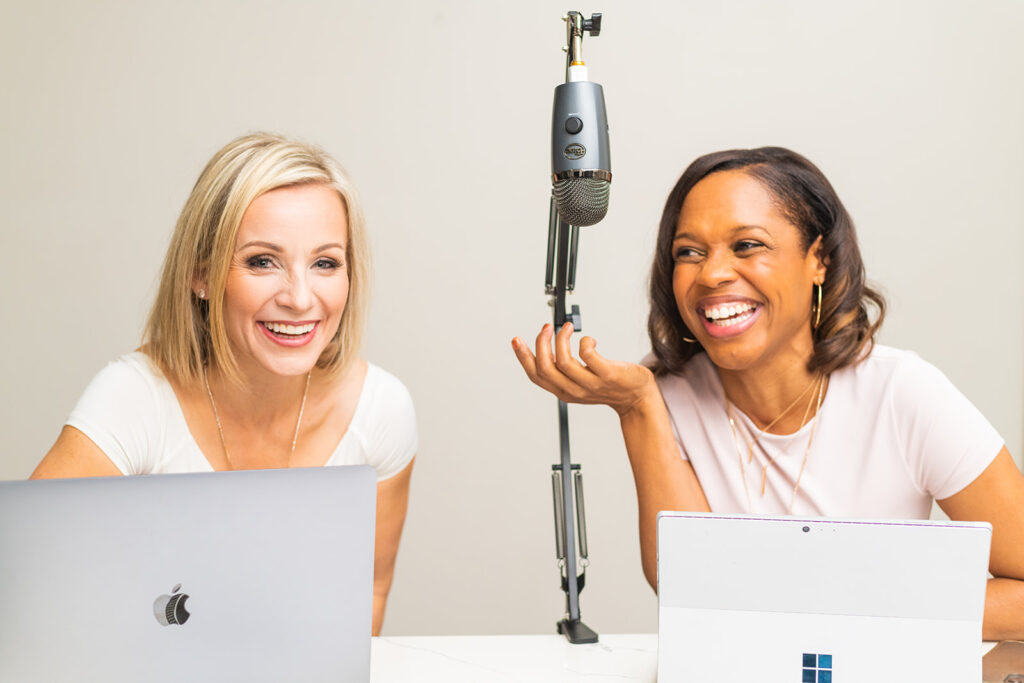 Interested in working with Houston Studio to refine your brand with intention?